Skip to Main Content
New Movies to Fallsburg Library: New Documentaries
New DVDs/Blu Rays and Music CDs available at Fallsburg Library
9/12 from Chaos to Community (DVD ONLY)
9/12 from Chaos to Community

Call Number: DVD 3113 N DOCUMENTARY

Twenty years ago, in the wake of the September 11 attacks, New Yorkers from all walks of life felt compelled to overcome their sense of powerlessness by volunteering to help out in the recovery effort. They brought in supplies, set up relief stations, and for ten months fed and cared for the recovery workers. Many deep and unexpected — even unlikely — relationships developed out of this. Using cinéma vérité footage, interviews and archival photographs, we follow several characters through a series of events reuniting them with each other after the closing of the site. Through their stories we present a portrait of the city within a city that was Ground Zero, and examine how an extremely diverse group of people transcended politics and culture in an effort to heal their city and themselves. 9/12: From Chaos to Community — a 60-minute character-driven documentary — is a vibrant, moving, sometimes funny, sometimes painful portrayal of hope and healing in the wake of disaster.
A Perfect Planet the Story of Earth's power and Fragility (DVD ONLY)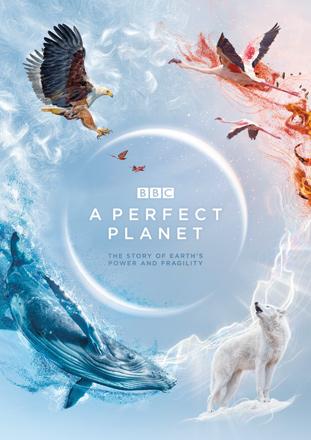 Origins of Hip-Hop (DVD ONLY)
Origins of Hip-Hop

Call Number: DVD 3232 O DOCUMENTARY

Origins of Hip Hop delves into the inspiring origin story of one of Hip Hop's biggest stars as collaborators, friends, family, and the artists themselves take viewers to where their stories began and trace their path to success.
Billie (DVD ONLY)
Billie

Call Number: DVD 3081 B DOCUMENTARY

Billie Holiday had one of the greatest voices of all time. She was a woman of breathtaking talent and global popularity who was unafraid of stirring controversy. She started a notable rebellion singing "Strange Fruit," which exposed the realities of Black life in America and earned her powerful enemies. Raw, emotional and brutally honest, Billie is filled with incredible unheard testimonies from musical greats like Charles Mingus, Tony Bennett, Sylvia Syms and Count Basie. Billie showcases an American legend, capturing her depth and complexity through the voices of those who knew her best. It is an arresting and powerful tale of one of the greatest singers who ever lived.
Echo in the Canyon (DVD ONLY)
Echo in the Canyon

Call Number: DVD 2961 E DOCUMENTARY

Echo In The Canyon celebrates the explosion of popular music that came out of LA's Laurel Canyon in the mid-60s as folk went electric and The Byrd's, The Beach Boys, Buffalo Springfield and The Mamas and the Papas gave birth to the California Sound. 1965-67 was a moment when bands came to LA to emulate The Beatles, and Laurel Canyon emerged as a hotbed of creativity and collaboration for a new generation of musicians who would soon put an indelible stamp on the history of American popular music. Featuring Jacob Dylan, the film explores the Laurel Canyon scene via never-before-heard personal details behind the bands and their songs, and how that music continues to inspire today. Echo in the Canyon contains candid conversations and performances with Brian Wilson (The Beach Boys), Michelle Phillips (The Mamas & the Papas), Stephen Stills (Buffalo Springfield), David Crosby, Roger McGlinn (The Byrd's), their contemporaries Ringo Starr, Eric Clapton, Graham Nash, and slightly younger followers Jackson Browne and Tom Petty (in his last film interview), as well as contemporary musicians influenced by their music such as Beck, Fiona Apple, Cat Power, Regina Spector and Norah Jones.