Skip to main content
Getting Started with NOOK Tablets: NOOK Color, HD, HD+, Samsung Galaxy Tab 4 NOOK
E-Readers at the Palisades Free Library: Getting Started with NOOK Tablets: NOOK Color, HD, HD+, Samsung Galaxy Tab 4 NOOK
Did you know? The library has e-readers available! Have your own device and want to download eBooks and audiobooks from the library? We can help with that, too!
Getting Started with NOOK Tablets: NOOK Color, HD, HD+, Samsung Galaxy Tab 4 NOOK
You can use the OverDrive app to borrow and enjoy eBooks and audiobooks from the library on your NOOK tablet. Learn how to get started, search for a title, borrow & download, and place a hold by clicking on the tabs below.
NOOK Tablets
Step 1: Download the free OverDrive app from NOOK Apps or the Google Play Store.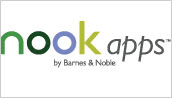 Step 2: Open the OverDrive app and follow the prompts to create an OverDrive account and log in. If you're under 13, tap "Continue" under "Under 13 years old or using Overdrive through your school?" instead. Note: If you are using a NOOK Color or Tablet you'll need to authorize your device by creating a free Adobe ID.
* Signing up for an Overdrive account authorizes your device to read Adobe EPUB format eBooks. It also allows you to have up to six devices synched and authorized with your account so you can read an eBook across multiple devices. To learn more about the Overdrive account visit: help.overdrive.com
Step 3: In the OverDrive app, swipe from left to right to open the Home menu. Then tap
and search for the Palisades Free Library. You can search by name, town, or ZIP code.
· Tap on Ramapo Catskill Library System to save it to your library list.
Step 1: Open the OverDrive app and swipe left to right or tap the menu icon to open the Home menu. Then tap Ramapo Catskill Library System.
Step 2: Tap on
in the upper right corner to log in with your library barcode and PIN number. By default, your PIN number is the last four digits of the phone number associated with your library record.
*Signing in allows you to view and access additional Advantage titles available only to Palisades Free Library patrons.
Step 3: Tap the Menu button to start browsing. You can search by collection, format, or genre. You can also search for a specific title or author by using the search box:
*You can filter your search by format, subject, publisher, device, etc. To limit results to only titles you can check out now, tap AVAILABLE NOW.
*The icons in the upper right hand corner of the book cover indicate if a title is available:
Step 1: To borrow a title on your Android device, tap on the book cover of the eBook or audiobook you want to check out (or tap on
)
*If you did not previously sign in, the app will prompt you to sign in with your library barcode and PIN number.
Step 2: Tap
Step 3: Tap
to go to your Loans.
Step 4: Tap Choose a Format and select EPUB eBook:
*To download an audiobook to your NOOK tablet, tap ADD TO APP (MP3 audiobook).
Step 5: Find the book on the OverDrive app bookshelf, and tap to start reading.
Titles that are currently unavailable can be placed on hold.
Step 1: Tap
If you would like automatic checkouts go to Settings and check the circle that says "Have your holds automatically borrowed for you as they become available":
If you do not choose automatic checkout, you will have 3 days from the time you receive the email to borrow the title or it will go to the next person on the Holds list.
Need additional help?
Palisades Free Library
19 Closter Road
Palisades, NY 10964
845.359.0136
pal@rcls.org