Skip to main content
New Materials: New DVDs & Blu-Rays
DVD/Blu-Rays
Debbie Ocean, brother of Danny, is released from prison after five years and immediately assembles an all-female crew with her best friend Lou to stage their greatest heist: stealing a $150 million necklace off the neck of actress Daphne Kluger at the Met Gala. Ocean must corral a jeweler, a fashion designer, a con artist, a fence and a hacker to pull off the job.
When her mentally ill mother passes away, a woman named Annie and her husband, son and daughter all mourn her loss. The family turn to different means to handle their grief, including Annie and her daughter both flirting with the supernatural. They each begin to have disturbing, otherworldly experiences linked to the sinister secrets and emotional trauma that have been passed through the generations of their family.
Place a Hold on our DVD Place a Hold on our Blu-Ray
"This documentary paints a portrait of the philosophy and work of cardigan-wearing children's entertainer Fred Rogers." A former minister, Mister Rogers creatively communicated themes of empathy and acceptance using a colorful cast of puppets and friends for more than 30 years. Along with archival footage, Rogers' contemporaries and castmates reflect on his legacy.
At the age of 85, U.S. Supreme Court Justice Ruth Bader Ginsburg has developed a lengthy legal legacy while becoming an unexpected pop culture icon. But the unique personal journey of her rise to the nation's highest court has been largely unknown, even to some of her biggest fans – until now. RBG explores Ginsburg's life and career.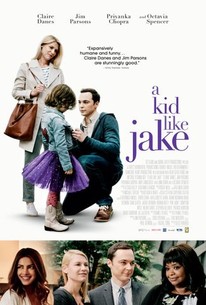 Married couple Alex and Greg are desperate to get their four-year-old son Jake into an extremely selective private kindergarten in New York, and they are tempted to use his interest in traditionally feminine activities to pitch him as a transgender student. However, this forces the pair to reflect on their own assumptions on gender and whether they should be defining their child's identity at so young an age.
Tami and Richard are a young couple who's sailing 4,000 miles across the Pacific Ocean who suddenly find themselves approaching a Category 5 storm with no hope of diverting. Tami awakes afterward stranded on their wrecked boat but has a determined will to survive.
Place a Hold on our DVD Place a Hold on our Blu-Ray
Ronit, a formerly exiled woman, returns to her orthodox Jewish family after the death of her father. Her family is shocked by her visit, but her sister-in-law Esti is inspired by Ronit to break free from the rigid rules and guidelines of their faith. Based on the book by Naomi Alderman.
In this sequel, irreverent warrior Deadpool recruits mutant fighters Domino, Bedlam, and Shatterstar to form an alliance he names the X-Force. Their mission is to protect a teenage boy from the wrath of the forceful Cable.
Place a Hold on our DVD Place a Hold on our Blu-Ray
Four lifelong friends' lives are turned upside down to hilarious ends when their book club attempts to shake things up by tackling Fifty Shades of Grey. From discovering new romance to rekindling old flames, they inspire each other to make their next chapter the best chapter.
The pastor of a small church in New York with dwindling attendance gets a call from a pregnant parishioner begging for help with her extremely radical husband. After getting involved, the pastor loses control of every aspect of his life.
Fresh off a divorce from a 23-year marriage, mom in her 40s, Deanna, decides to finally get her degree and joins her daughter Maddie at college. There, she enjoys life on campus, crazy parties, and library hookups while coming to terms with her new situation.
Place a Hold on our DVD Place a Hold on our Blu-Ray
A lawyer deals with a hostage crisis in this ensemble drama about women living in Montana. Elsewhere, a wife and mother tries to build a cottage home, and a female ranch worker falls for a young woman who teaches adult-education classes.
Iron Man, Spider Man, Thor and all the other Avengers unite to assemble their power in order to fight the necessary battle against their biggest collective enemy, Thanos, before he can wreak his havoc across the entire world.
Place a Hold on our DVD Place a Hold on our Blu-Ray
In 1962 England, conservative, demure violinist Florence and brash, working class graduate student Edward fall in love despite their different backgrounds. They get married, but things fall apart on their honeymoon at Chesil Beach when the newlyweds are unable to enjoy physical intimacy because of their opposing attitudes about sex. The resulting fight changes the course of their relationship.
At the encouragement of her brother, Marlo, an overwhelmed mother of three and her husband, Drew, hire a young night nurse named Tully to care for their newborn. Tully becomes a confidant for Marlo who, when given room to breath, grapples with her identity as a wife and mother.
A family comedy about the unlikely pairing of a human detective and his canine partner, who must go undercover at the world's most exclusive dog show and recruit an all-star cast of animal helpers to solve their biggest case yet.
Place a Hold on our DVD Place a Hold on our Blu-Ray
In this gender-swapped remake of the 1987 Goldie Hawn and Kurt Russell rom-com of the same name, spoiled Mexican hier Leonardo hires single mother Kate to clean his yacht but unjustly fires her. When he falls off his boat and wakes up with amnesia, Kate's boss convinces her to pretend to be Leonardo's wife to get some payback.
Place a Hold on our DVD Place a Hold on our Blu-Ray
In 1992 Los Angeles, Millie, a mother of eight adopted children, finds herself frantic when the Rodney King verdict is announced. Amid the riots and chaos, she loses track of her children and comes to rely on Obie, her only white neighbor, to keep her family safe.
In this dystopian fable, a librarian wife and mother becomes the childbearing pawn of a Christian theocracy. In the near future, as war rages across the fictional North American Republic of Gilead and pollution has rendered 99 percent of the female population sterile, Kate sees her husband killed and her daughter kidnapped while trying to escape across the border. Kate herself is transformed into a handmaid -- a surrogate mother for one of the privileged but barren couples who run the country's fundamentalist regime. Although she resists being indoctrinated into the bizarre cult of the handmaids, which mixes Old Testament orthodoxy and misogynist cant with 12-step gospel and ritualized violence, Kate soon finds herself ensconced at the home of the Commander and his frosty wife, Serena Joy.
A high-school girls' volleyball team are devastated when their star player, Caroline "Line" Found, is killed in a tragic accident. In time, the girls decide to move past their grief by focusing on winning a state championship in Found's honor.
In this sequel to the 2001 cult comedy Super Troopers, dismissed Vermont Highway Patrol officers Thorny, Mac, Foster, Rabbit and Farva get a chance to redeem themselves. The wacky crew is sent to a Canadian town that has been reclaimed by the United States after a recently discovered border error, where they must win over the less-than-thrilled locals.
Place a Hold on our DVD Place a Hold on our Blu-Ray
In a dystopian future, people spend most of their time in a virtual-reality world called the OASIS. After its creator dies, he reveals he will leave his fortune to whomever can find a hidden Easter egg. Poor teen Wade Watts unlocks the first key to its location, making him a target for an evil corporation also seeking the prize.
After a head injury, a frustrated, insecure woman wakes up believing she now has the looks of a supermodel. She uses her newfound confidence to meet a man and impress her bosses, but everything could fall apart when she realizes she still looks the same.
Place a Hold on our DVD Place a Hold on our Blu-Ray
In the modern horror thriller, a family of four must navigate their lives in silence after mysterious creatures that hunt by sound threaten their survival. If they hear you, they hunt you.
Place a Hold on our DVD Place a Hold on our Blu-Ray
In this stop-motion-animated film, an outbreak of canine flu in Japan leads all dogs to be quarantined on an island. A boy journeys there to rescue his dog Spots, and gets help from a pack of misfit canines who have also been exiled. His quest inspires a group of dog lovers to expose a government conspiracy.
Place a Hold on our DVD Place a Hold on our Blu-Ray
A couple head off for a romantic weekend in the mountains. Isolated at a remote estate, they are surprised by the arrival of two friends, but just when the weekend starts to get back on track, a violent biker gang turns up and begins to torment them.
Place a Hold on our DVD Place a Hold on our Blu-Ray
After she learns that her husband of 40 years has been having an affair with her best friend, Sandra decides to escape the scrutiny of her bourgeoisie social circle by moving in with her free-spirited sister. Soon, she attempts to find herself while attending a community dance class with her sibling.
Joe, a brutal and unshakable veteran, makes a living finding girls who have gone missing or been kidnapped. On a high-profile job for a politician, he discovers a sinister truth that could ultimately result in his death.
Chappaquiddick tells the story of the 1969 incident in which Senator Ted Kennedy drove his car into a lake, killing campaign strategist Mary Jo Kopechne. Kennedy fled the scene and didn't inform the police for ten hours. His confidantes and his father, Joseph P. Kennedy Sr., attempt to use the power of their family's political dynasty to spin the story, avert scandal, and protect Ted's presidential aspirations.
Place a Hold on our DVD Place a Hold on our Blu-Ray
Leslie Mann, John Cena, and Ike Barinholtz play meddling parents who discover that their teenage daughters have made a pact to lose their virginities on prom night. They decide to intervene and stop them by following them during the night's various wild festivities.
Place a Hold on our DVD Place a Hold on our Blu-Ray
Former diplomat Mason Skiles returns to Beirut in 1982 to act as a hostage negotiator when an old friend is kidnapped by terrorists. However, his mission is complicated by the various agendas of the CIA, the Mossad, and the terrorists' leader, as well as his own personal demons.
Place a Hold on our DVD Place a Hold on our Blu-Ray
In 1976, an Air France flight out of Israel is hijacked by Palestinian and German terrorists led by Wilfried and Brigitte. The plane is forced to land in Entebbe, Uganda, where the Jewish passengers are held hostage. Instead of giving in to the hijackers' demands to release Palestinian prisoners, the Israeli government sends in a commando team for a rescue mission.
Marina, a transgender nightclub singer, comes under suspicion when her much older lover Orlando dies suddenly. After being harassed and threatened by her late boyfriend's vengeful relatives and the police, she must defend her rights as both Orlando's partner and as a human being.
When a fictional murder-mystery game set up by Brooks turns into a real-life kidnapping, hypercompetitive couple Max and Annie must lead their group of game-night friends to rescue him amid twists, changing alliances, and deadly stakes.
After getting a restraining order and moving to a new city, a young woman continues to be haunted by visions of her stalker, David. She turns to a mental-health center for help, but is instead committed there against her will. When she recognizes David as one of the center's employees yet no one believes her, she begins to question her grip on reality and resorts to violence to get people to listen.
Place a Hold on our DVD Place a Hold on our Blu-Ray
A sheltered girl named Katie has a rare disease known as XP that makes exposure to sunlight deadly. A chance encounter with her childhood crush, Charlie, leads to an unlikely summer romance that gets complicated when Katie finally reveals her medical condition.
Place a Hold on our DVD Place a Hold on our Blu-Ray
Simon is a closeted high schooler who falls for an anonymous online pen pal from his school who is also gay. When a blackmailer obtains his candid emails and threatens to out him, Simon must figure out how to reveal his sexuality to his friends and family while also attempting to turn his online flirtation into a real-life romance.
Place a Hold on our DVD Place a Hold on our Blu-Ray
Television Series
A con man on the run from a vicious gangster takes cover from his past by assuming the identity of his prison cellmate, Pete, "reuniting" with Pete's estranged family, a colorful, dysfunctional group that threatens to drag him into a world just as dangerous as the one he's trying to escape - and, just maybe, give him a taste of the loving family he's never had.
Place Hold for the Complete First Season
Determined to protect the sanctity of his town in the wake of his father's shooting, season two of Riverdale finds Archie seeking vengeance. As a civil war brews between the Northside and the Southside, loyalties will be divided. Betty and Jughead's relationship enters fragile territory when Jughead decides to live on the Southside, and Betty becomes plagued by the news of her long lost brother. Veronica will find her life upended by her father Hiram's arrival given that it's their first reunion since his arrest, and Archie's rivalry with Reggie will grow. Things aren't always what you'd expect in Riverdale, and that's especially true as Archie tries to uncover the mystery of his father's attack.
Rick and his survivors bring "All Out War" to Negan and his forces. The lines are drawn as they launch into a kinetic, action- packed battle for the promise of a brighter future.
Place Hold for the Complete Eighth Season
The power dynamics at Litchfield shift dramatically as the inmates react to tragedy. When the standoff at the prison turns into a full-blown riot the inmates take advantage of the confusion by conducting seances holding prisoner auctions and preening for the morning news. But with relationships tested and friendships starting to fray will life at Litchfield ever return to normal?
Frank comes out of a drug-induced haze and decides it's finally time to be a contributing member of society. Fiona faces hard decisions when she discovers her success as a landlord may mean someone else's misfortune. Lip struggles with staying sober, while Ian takes up a cause in hopes of getting back with Trevor. Debbie builds her future at welding school while juggling life as a single working mom, as Carl gets creative finding tuition money after he loses his scholarship.
Place Hold for the Complete Eighth Season
Starring and created by Donald Glover, Atlanta follows two cousins who work through the Atlanta music scene in order to better their lives and the lives of their families.
Place Hold for the Complete First Season
Danny McBride and Walton Goggins team up in this comedy series about two high-school vice principals who forge an unholy alliance to take down the school's new principal.
Picking up immediately following the Season 2 cliffhanger, Season 3 will explore each character's motivations and the disintegration between Elliot and Mr. Robot.
In the violent region formerly known as the U.S.-Mexico border, the survivors will be brought together in the first half of season three to face what they fear and fear what they become. International lines having been done away with following the world's end, the survivors must attempt to fight off the infected, and rebuild not only society, but family as well.
Ray's ongoing family upheaval has taken an emotional toll, leaving him more vulnerable than ever. LA's preeminent fixer is heading into uncharted territory and will soon discover that some damage cant be controlled.
Carrie Mathison is back in the US on the streets of New York, fighting for the protection of civil liberties and against the abuse of power within our government. She remains in opposition with Saul, who is still with the CIA.
The long winter is here. As the season begins, Daenerys Targaryen -accompanied by her Unsullied army and emboldened by Dothraki/Ironborn allies and her lethal trio of dragons - has finally set sail for Westeros with Tyrion Lannister. Jon Snow has consolidated power in the North after his spectacular conquest of Ramsay Bolton and the return of Winterfell to Stark control. In King's Landing, Cersei Lannister, bereft of any surviving heirs, has successfully seized the Iron Throne. But as these and other factions drive towards new alliances or violent conflicts, the cold specter of another, apocalyptic threat - in the form of an army of undead White Walkers - threatens to undermine the status quo and obliterate the outcome of these smaller, all-too-human rivalries.
Following the shocking events of Series 2, Spector lies in the hospital in critical condition. But when he awakes, he seems to be suffering from memory loss and claims he doesn't remember committing any murders. Determined to make Spector pay for his crimes, Gibson compiles evidence against him, but she faces opposition from her superiors and a formidable defense team that accuses her of an inappropriate relationship with Spector. With the odds now stacked against Gibson, will Spector ever see justice?
Recently widowed D.J. Tanner-Fuller gets help from her sister Stephanie and best friend Kimmy when the women move in with their families to help D.J. raise her children in this spin-off series.
The British Empire is in decline, the political world is in disarray, and a young woman takes the throne... a new era is dawning. Queen Elizabeth II is a 25-year-old newlywed faced with the daunting prospect of leading the world's most famous monarchy while forging a relationship with legendary Prime Minister Sir Winston Churchill.
Place Hold for the Complete First Season
Westworld is a dark odyssey about the dawn of artificial consciousness and the evolution of sin – exploring a world in which every human appetite, not matter how noble or depraved, can be indulged. Exploring what it means to be human through the eyes of the lifelike AI "hosts" in the park, the series investigates the boundaries of an exotic world set at the intersection of the near future and the reimagined past. Meticulously crafted and artfully designed. Westworld offers its guests an unparalleled, immersive world where they have the freedom to become who they've always wanted to be – or who they never knew they were. No rules, no laws, no judgment. Live without limits.
Place Hold for the Complete First Season
Hoping to begin a new life in a North Carolina farmhouse, Shelby and Matt Miller flee Los Angeles only to find murder, mayhem and madness.
At once deeply observed and intriguingly elusive, The Affair explores the emotional effects of an extramarital relationship. Noah is a New York City schoolteacher and novelist who is happily married, but resents his dependence on his wealthy father-in-law. Alison is a young waitress trying to piece her life and marriage back together in the wake of a tragedy. The provocative drama unfolds when Alison and Noah meet in Montauk at the end of Long Island.
A comedy following the public and private lives of U.S. vice president Selina Meyer and her staff.
The drama series based on the novel of the same name written by Liane Moriarty starts off with a bang: Someone is murdered, but neither the victim nor the murderer are revealed. The story is told all in flashbacks, leading up to the trivia night when the murder occurred, and follows the lives of a few families in the town of Monterey. As the story progresses, secrets are revealed and a shocking murder might finally make sense.
Lena Dunham returns for the highly anticipated final season of Girls, the award-winning hit comedy series that follows the assorted humiliations and triumphs of a group of girls in their mid-20s – each facing new challenges in life and love this season.
Rescued after fifteen years in an underground doomsday cult, Kimmy decides to rebuild her life in New York City armed with only a fifth-grade education and a firm belief that truly anything is possible. She quickly finds a roommate, Titus Andromedon, a job working for a spoiled Manhattan mom, Jacqueline Voorhees, and a new beginning.
The Night Of centers around the brutal murder of a young woman on Manhattan's Upper West Side, examining the initial police investigation, arrest, and imprisonment of the prime suspect – a likeable, unassuming college student who finds himself and his family thrown into the pit of NYC's criminal, legal, penal and judicial system. Meanwhile, his lawyer, an inveterate ""precinct trawler"" who lucks into the biggest case of his life, becomes entangled in a web of complicated legal maneuverings by detectives and rival attorneys that undermine his ability to try the case. The Night Of takes an unvarnished look at both the multifaceted NYC criminal-justice system and the feral purgatory of Rikers Island, where the accused await trial for felony crimes.
Place Hold for the Complete First Season
Season 2 finds Jimmy leaving shortcuts behind for his budding romance with Kim. With his stern brother Chuck keeping watch and fixer Mike drawn into a menacing cartel web, how long can "Slippin' Jimmy" stay on the straight and narrow?
Based on Alexander Rose's book Washington's Spies, AMC's TURN tells the untold story of America's first spy ring. A historical thriller set during the Revolutionary War, TURN centers on Abe Woodhull, a farmer living in British-occupied Long Island who bands together with his childhood friends to form The Culper Ring -- an unlikely team of secret agents who not only went on to help George Washington turn the tide of the war but also gave birth to modern spycraft.
Rebecca Bunch has always been wound a little tightly. It's something that served her well as she has raced up the ladder at her corporate law firm in New York. It may also be why she has no life. So when Rebecca bumps into Josh Chan – her handsome, long-ago summer–camp–sweetheart – she knows that it's a sign. A sign for her to quit her job, drop everything and move across the country to West Covina, California where, in a huge, definitely unrelated coincidence, Josh just happens to live. Settling into her new Southern California surroundings, Rebecca's contagious, sometimes-delusional enthusiasm begins to stir the citizens of West Covina, shaking them up and giving them a new soundtrack to their lives.
A chronicled look at the criminal exploits of Colombian drug lord Pablo Escobar.