Skip to main content
New Materials: New DVDs & Blu-Rays
DVD/Blu-Rays
A young CIA recruit named Mitch Rapp trains to become a black-ops counterterrorism agent under the tutelage of Stan Hurley, a fearsome warrior and legend within the agency. While Hurley advises never to make the mission personal, Rapp remains haunted by the death of his fiancée in a terrorist attack. Eventually, the two men must work together to stop a rogue operative from sowing chaos in the Middle East.
Place a Hold on our DVD Place a Hold on our Blu-Ray
Director Kathryn Bigelow and screenwriter Mark Boal reteam for this docudrama about the Detroit race riots of July 1967, which engulfed the city for five days after the public were outraged by the brutality of a police raid on an unlicensed bar. The film eventually zeros in on one particular incident at the Algiers Motel, where a group of black men and white women were terrorized (and some killed) by police officers.
Place a Hold on our DVD Place a Hold on our Blu-Ray
A recently separated woman moves to Los Angeles with her two daughters, where she rents out her guesthouse to three much younger men -- one of whom she soon begins dating. Her new life gets even more complicated when her estranged husband reenters the picture.
Place a Hold on our DVD Place a Hold on our Blu-Ray
Eggsy and Roxy return to action with the rest of Kingsmen when their headquarters is destroyed by a villainous corporation known as the Golden Circle. Faced with the challenge of defeating a formidable opponent with no home base, the Kingsmen discover an allied organization of spies called Statesman, whose cooperation reaches back to the founding of their own agency. The two groups must join forces to save the world.
Place a Hold on our DVD Place a Hold on our Blu-Ray
Steve Coogan and Rob Brydon return for the third installment in this comedy series, which sees them playing fictionalized versions of themselves as they tour a country, sample the local cuisine, and trade celebrity impressions while making fun of each other. The duo head to Spain this time around, where they reflect on life's disappointments and their fears over getting older.
An 86-year-old widow suffering from dementia bonds with a computerized re-creation of her late husband, who tells her stories about "their" courtship and time together. Soon, their relationship forces the rest of her family to reflect on their shared history.
In 17th century Amsterdam, the young wife of a wealthy, older burgher is tempted into adultery when an artist hired to paint the couple's portrait becomes infatuated with her. The lovers soon plan to start a new life together by investing in tulip bulbs during a global craze for the flowers.
Two down-on-their-luck brothers, fed up by their dismal economic prospects, plot an elaborate heist at Charlotte Motor Speedway in North Carolina. When their plan calls for an explosives expert, they attempt to recruit an eccentric convict named Joe Bang-- but securing his help will require breaking him out of prison.
Place a Hold on our DVD Place a Hold on our Blu-Ray
Professional bodyguard Michael Bryce must protect his longtime nemesis, hitman Darius Kincaid, after the latter agrees to testify at the Hague against an Eastern European dictator. The constantly bickering pair are forced to go on a journey together from England to the Netherlands, and are targeted by the dictator's henchmen along the way.
Place a Hold on our DVD Place a Hold on our Blu-Ray
In 19th century France, a young orphan named Félicie dreams of becoming a ballerina. She and her best friend Victor soon run away to Paris, where she enrolls in a prestigious dance school and competes for a chance to be a prima ballerina.
Place a Hold on our DVD Place a Hold on our Blu-Ray
In 1964 San Francisco, a pre-fame Bruce Lee challenges a Shaolin monk named Wong Jack Man to a fight behind closed doors. Birth of the Dragon dramatizes this real-life event, which helped cement Lee's reputation as one of the greatest martial artists of all time.
Place a Hold on our DVD Place a Hold on our Blu-Ray
A documentary look at the lives of various stray cats in Istanbul. The residents of this city in Turkey are famously compassionate toward the large feline population, a tradition that dates back several thousand years.
In this spy thriller set in 1989 Berlin, MI6 agent Lorraine Broughton must obtain a stolen list of Western spies while the city around her descends into chaos and revolution. Working with local station chief David Percival, her pursuit leads her to uncover a much larger conspiracy.
Place a Hold on our DVD Place a Hold on our Blu-Ray
When wildlife officer Cory Lambert discovers the body of a young woman on Wyoming's Wind River Native American reservation, FBI agent Jane Banner is sent to investigate. After Banner hires Lambert as her tracker, the two must brave the isolated winter terrain and local criminal underworld in order to crack the case.
A group of animals are horrified when their beloved park is targeted for demolition by the city's unscrupulous mayor. In an attempt to reclaim their home, Surly the squirrel puts together a scheme to destroy the gaudy amusement park that's been built on the property.
Place a Hold on our DVD Place a Hold on our Blu-Ray
A young woman reflects on her unconventional upbringing at the hands of her artsy, nonconformist parents, which sometimes resulted in the family living in poverty. Now married to a man who works in finance in New York, she faces criticism from her parents that she's betrayed their values.
Place a Hold on our DVD Place a Hold on our Blu-Ray
Famed race car Lightning McQueen suffers a catastrophic crash while trying to compete with a younger rival named Jackson Storm. Afterwards, McQueen embraces new technologies as he trains for a return to the racetrack.
Place a Hold on our DVD Place a Hold on our Blu-Ray
In this dystopian fable, a librarian wife and mother becomes the childbearing pawn of a Christian theocracy. In the near future, as war rages across the fictional North American Republic of Gilead and pollution has rendered 99 percent of the female population sterile, Kate sees her husband killed and her daughter kidnapped while trying to escape across the border. Kate herself is transformed into a handmaid -- a surrogate mother for one of the privileged but barren couples who run the country's fundamentalist regime.
When her six-year-old son is abducted from a carnival by a stranger, a desperate mother decides to take matters into her own hands rather than wait for law enforcement to help her. Her relentless pursuit eventually leads her to uncover a larger kidnapping ring.
Place a Hold on our DVD Place a Hold on our Blu-Ray
This sequel to the Oscar-winning 2006 documentary An Inconvenient Truth follows former U.S. vice president Al Gore as he travels the world attempting to combat climate change. The film shows Gore's work with fellow environmentalists, researchers, businesspeople, and politicians, and also details his behind-the-scenes efforts at the UN's 2015 Climate Change Conference, where the groundbreaking Paris Agreement was negotiated.
An imaginative boy is transported to a fantasy realm, where he gets caught up in an epic battle between a noble gunslinger named Roland Deschain and a villainous figure known as the Man in Black. Later, Roland's quest to defend a magical tower from the Man in Black leads him to follow the boy back to Earth.
A group of orphaned girls are taken in by a doll maker and his wife, who are still grieving the death of their daughter. However, they are soon terrorized by a haunted doll that's lurking within the couple's house.
After realizing that they can't possibly afford the tuition for the prestigious college their daughter plans to attend, a married couple team up with their eccentric neighbor to make money by running an illegal casino in the suburbs. Needless to say, things quickly spiral out of control as they deal with unruly guests while trying to keep their operation hidden from the police.
In the third installment of the Planet of the Apes prequel series -- which depicts the events that led to the primates taking control of Earth -- simian leader Caesar is horrified when his family are killed during an attack by humans on his community. Caesar soon plots revenge on the Colonel, the human military leader behind the assault, which threatens to ignite all-out war between the two species.
Place a Hold on our DVD Place a Hold on our Blu-Ray
This historical drama portrays Winston Churchill on the eve of D-Day, as he grapples with his fears that the invasion will be a disaster akin to the Battle of Gallipoli during WWI. With time running out, his military allies and his wife must persuade him to go ahead with the operation.
This animated comedy takes place in Textopolis, a world inside a smartphone that's inhabited by various emojis. There, an emoji named Gene is ashamed that he has multiple facial expressions while his colleagues only have one each, and he embarks on a quest across various apps to be like everyone else.
Spider-Man learns the ropes of being a superhero under the tutelage of Tony Stark, all while juggling his responsibilities as high schooler Peter Parker. Eager to prove to Stark that he's ready to join the Avengers, Parker soon gets tangled up with a sinister new villain known as the Vulture.
Four gal pals decide they need to take a vacation together after five years apart, and head to New Orleans to have a wild time at the Essence Festival. There, they party hard while confronting their personal issues and romantic dilemmas.
Place a Hold on our DVD Place a Hold on our Blu-Ray
This documentary profiles three senior members of a Baltimore high-school step-dance team as they overcome hardships to attend college. In the face of racial tensions in Baltimore, the "Lethal Ladies" use step dancing to express their emotions and relieve the mounting stress of completing high school.
The movie's protagonist is a fresh-faced getaway driver who goes by the name of Baby; he works for a crew of bank robbers in Atlanta, and listens to music all the time (including during robberies) to drown out the severe tinnitus he developed from a childhood accident. Baby's solitary life changes after he falls in love with a waitress named Debora, but when he tries to escape from the criminal underworld and start over, he finds that getting out is easier said than done.
In this Civil War drama, a deserter from the Union Army seeks refuge at an all-female boarding school in Virginia, where the ladies compete for his affections while tending to his injuries. His presence at the school slowly poisons the relationships between the various women, who eventually turn on the soldier.
Place a Hold on our DVD Place a Hold on our Blu-Ray
The true story of Eugenie Clark, a woman whose scientific contributions and passion for sea life led to her being nicknamed "Shark Lady."
The daily squabbles of a quarrelsome trio of medieval nuns are interrupted when a strapping young man finds refuge at their convent. The restless nuns conspire to seduce him, and the young man, feigning deafness, overhears their plans.
You're in for a devil of a time when three outlandishly wild witches return from 17th-century Salem after they're accidentally conjured up by some unsuspecting pranksters! It's a night full of zany fun and comic chaos once the tricky 300-year-old trio sets out to cast a spell on the town and reclaim their youth -- but first they must get their act together and outwit three kids and a talking cat!
The film opens on a recreation of the magazine cartoon wherein the ghoulish Addamses prepare to pour hot oil upon a group of merry Christmas carolers. After a series of vignettes which establish the characters of Gomez, Morticia, Wednesday, Pugsley and family servants Lurch and Thing, the plot proper gets under way. A stranger shows up on the Addams doorstep, claiming to be long-lost Uncle Fester.
During the Blitz of World War II, a female screenwriter works on a film celebrating England's resilience as a way to buoy a weary populace's spirits. Her efforts to dramatize the true story of two sisters who undertook their own maritime mission to rescue wounded soldiers are met with mixed feelings by a dismissive all-male staff.
A young boy learns that his next-door neighbor is being abused by her stepfather, and starts writing a book about how to rescue her. When his mother discovers his plans, she decides to enact them herself.
Place a Hold on our DVD Place a Hold on our Blu-Ray
An Amazon princess named Diana lives an idyllic existence on an island occupied solely by female warriors, but her life changes forever after American pilot Steve Trevor crash-lands nearby. When he tells her that a massive war is engulfing the planet, she decides to travel with him to the outside world, hoping to use her powers to put an end to the conflict.
Hunted by the malevolent Captain Salazar, Sparrow sets out on a quest to find a mystical artifact known as the Trident of Poseidon, and gains two new allies along the way: a gorgeous astronomer and a young sailor with a connection to Sparrow's past.
Place a Hold on our DVD Place a Hold on our Blu-Ray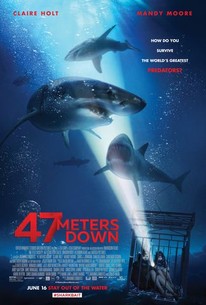 Two sisters vacationing in Mexico become trapped in a shark cage on the ocean floor. As their oxygen starts to run out and with great white sharks circling them, the sisters must find a way to get to the surface alive.
Place a Hold on our DVD Place a Hold on our Blu-Ray
An unhappily married couple are both having affairs, and hope to end their marriage soon to be with their lovers. But when they rediscover their passion for one another, their plans for the future go up in smoke.
With Optimus Prime gone and a war brewing between mankind and the Transformers, Cade Yeager teams up with a British astronomer, a university professor, and the Autobot known as Bumblebee to save the world from a terrifying new threat. Along the way, the group investigate the secret history of the Transformers' time on Earth.
Place a Hold on our DVD Place a Hold on our Blu-Ray
A Pakistani-American standup comedian falls for a white grad student, and decides to keep their uncertain romance a secret from his traditionalist, Muslim family. However, their relationship gets more serious when she develops a mysterious illness, which in turn forces him to bond with her parents.
Two fourth-graders hypnotize their principal in order to transform him into Captain Underpants, the superhero from their homemade comic book. The trio soon battle a new teacher at their school, who's secretly a mad scientist.
Place a Hold on our DVD Place a Hold on our Blu-Ray
While on the run following a botched heist, the Guardians of the Galaxy encounter a mysterious being known as Ego, who claims to be the long-lost father of team leader Peter Quill. As Quill learns more about his past, the Guardians battle foes old and new.
Place a Hold on our DVD Place a Hold on our Blu-Ray
This biopic of legendary rapper Tupac Shakur depicts his rise to fame, his political activism, his growth as an artist, his connection to Death Row Records CEO Suge Knight, and his untimely death at the age of 25.
Place a Hold on our DVD Place a Hold on our Blu-Ray
Two brothers and their wives meet up at a haute-cuisine restaurant to discuss what to do about a horrific crime that their sons committed together. As the quartet debate their options, the conversation reopens old wounds between the siblings.
This documentary from Disneynature follows three animal species in the wilds of China: A snow leopard tries to protect her two cubs from predators, a golden snub-nosed monkey squabbles with his family, and a panda mother cares for her child.
Television Series
The long winter is here. As the season begins, Daenerys Targaryen -accompanied by her Unsullied army and emboldened by Dothraki/Ironborn allies and her lethal trio of dragons - has finally set sail for Westeros with Tyrion Lannister. Jon Snow has consolidated power in the North after his spectacular conquest of Ramsay Bolton and the return of Winterfell to Stark control. In King's Landing, Cersei Lannister, bereft of any surviving heirs, has successfully seized the Iron Throne. But as these and other factions drive towards new alliances or violent conflicts, the cold specter of another, apocalyptic threat - in the form of an army of undead White Walkers - threatens to undermine the status quo and obliterate the outcome of these smaller, all-too-human rivalries.
Following the shocking events of Series 2, Spector lies in the hospital in critical condition. But when he awakes, he seems to be suffering from memory loss and claims he doesn't remember committing any murders. Determined to make Spector pay for his crimes, Gibson compiles evidence against him, but she faces opposition from her superiors and a formidable defense team that accuses her of an inappropriate relationship with Spector. With the odds now stacked against Gibson, will Spector ever see justice?
The British Empire is in decline, the political world is in disarray, and a young woman takes the throne... a new era is dawning. Queen Elizabeth II is a 25-year-old newlywed faced with the daunting prospect of leading the world's most famous monarchy while forging a relationship with legendary Prime Minister Sir Winston Churchill.
Westworld is a dark odyssey about the dawn of artificial consciousness and the evolution of sin – exploring a world in which every human appetite, not matter how noble or depraved, can be indulged. Exploring what it means to be human through the eyes of the lifelike AI "hosts" in the park, the series investigates the boundaries of an exotic world set at the intersection of the near future and the reimagined past. Meticulously crafted and artfully designed. Westworld offers its guests an unparalleled, immersive world where they have the freedom to become who they've always wanted to be – or who they never knew they were. No rules, no laws, no judgment. Live without limits.
The series focuses on denizens of the fictional town of Mapleton, three years after the fateful October 14 day when 140 million people – 2% of the world's population – disappeared without a trace.
\
Season 5 of the drama about a ruthless congressman and his equally ambitious wife who navigate the corridors of power in Washington, D.C.
A local woman has come forward about being raped after her friends party. Detectives Hardy and Miller begin to investigate the case, questioning everyone who were at the party that night, however, they soon find out that a lot of the guest have secrets so they try their best to uncover the attacker.
Place Hold for the Complete Third Season
At once deeply observed and intriguingly elusive, The Affair explores the emotional effects of an extramarital relationship. Noah is a New York City schoolteacher and novelist who is happily married, but resents his dependence on his wealthy father-in-law. Alison is a young waitress trying to piece her life and marriage back together in the wake of a tragedy. The provocative drama unfolds when Alison and Noah meet in Montauk at the end of Long Island.
Place Hold for the Complete First Season
Place Hold for the Complete Second Season
Place Hold for the Complete Third Season
The first season follows the early years of young, American-born Pius XIII's pontificate. Pius XIII, who was born Lenny Belardo, quickly demonstrates that he will not be a mere figurehead for the Vatican, as the Vatican Secretary of State, Cardinal Voiello, was hoping for. Instead, Pius XIII is arrogant, self-serving, and power hungry. He publicly criticizes and questions his people's devotion to God, but the people around him begin to wonder if he even believes in God himself.
A comedy following the public and private lives of U.S. vice president Selina Meyer and her staff.
Shrewd, savvy U.S. Attorney Chuck Rhoades and the brilliant, ambitious hedge fund king Bobby "Axe" Axelrod are on an explosive collision course, with each using all of his considerable smarts, power and influence to outmaneuver the other. The stakes are in the billions in this timely, provocative series.
Based on the characters from Archie Comics, Riverdale gives a subversive take on small-town life. Things aren't always what you expect in Riverdale. As a new school year begins, the town is reeling from the tragic death of high school golden boy Jason Blossom. The summer's events made all-American teen Archie Andrews realize that he wants to pursue a career in music, but his fractured friendship with Jughead Jones, and Josie McCoy's focus on her own band leaves Archie without a mentor. Meanwhile, girl-next-door Betty Cooper is not ready to reveal her true feelings for Archie, and new student, Veronica Lodge, has an undeniable spark with her crush. And then there's Cheryl Blossom, Riverdale's Queen Bee, who stirs up trouble amongst Archie, Betty and Veronica. But is Cheryl hiding something about the mysterious death of her twin brother, Jason? Riverdale may look like a quiet, sleepy town, but there's more to the story.
The drama series based on the novel of the same name written by Liane Moriarty starts off with a bang: Someone is murdered, but neither the victim nor the murderer are revealed. The story is told all in flashbacks, leading up to the trivia night when the murder occurred, and follows the lives of a few families in the town of Monterey. As the story progresses, secrets are revealed and a shocking murder might finally make sense.
Lena Dunham returns for the highly anticipated final season of Girls, the award-winning hit comedy series that follows the assorted humiliations and triumphs of a group of girls in their mid-20s – each facing new challenges in life and love this season.
Rescued after fifteen years in an underground doomsday cult, Kimmy decides to rebuild her life in New York City armed with only a fifth-grade education and a firm belief that truly anything is possible. She quickly finds a roommate, Titus Andromedon, a job working for a spoiled Manhattan mom, Jacqueline Voorhees, and a new beginning.
With its fourth season, The Americans continues to deliver top-tier spy drama while sending its characters in directions that threaten to destroy their freedoms - and their lives.
Sherlock is back on British soil once more, while Doctor Watson and Mary prepare for their biggest ever challenge – becoming parents for the first time.
Recently widowed D.J. Tanner-Fuller gets help from her sister Stephanie and best friend Kimmy when the women move in with their families to help D.J. raise her children in this spin-off series.
Now working at a private security firm in Berlin, Carrie is trying to start a new life, but she soon discovers she can't escape her past. Blindsided by stunning betrayals, and without Saul and Quinn to rely on, Carrie must uncover a deadly conspiracy that puts thousands of lives at risk, including her own.
Winner of the Golden Globe for Best TV Drama, it follows Elliot Alderson, a young cyber-security engineer who becomes involved in the underground hacker group fsociety, after being recruited by their mysterious leader. Following the events of fsociety's 5/9 hack on multi-national company Evil Corp, the second season explores the consequences of that attack as well as the illusion of control.
After the bloody Minassian shootout, Ray Donovan is focused on healing himself and his damaged relationship with his family. But Ray is soon pulled back into his old life by a troubled boxer and an enigmatic art dealer with ties to the Russian mafia.
Last season, 'Fear the Walking Dead' explored a blended family who watched a burning, dead city as they traversed a devastated Los Angeles. In Season 2, the group aboard the Abigail is unaware of the true breadth and depth of the apocalypse that surrounds them; they assume there is still a chance that some city, state, or nation might be unaffected some place that the Infection has not reached. But as Operation Cobalt goes into full effect, the military bombs the Southland to cleanse it of the Infected, driving the Dead toward the sea. As Madison, Travis, Daniel, and their grieving families head for ports unknown, they will discover that the water may be no safer than land.
The Night Of centers around the brutal murder of a young woman on Manhattan's Upper West Side, examining the initial police investigation, arrest, and imprisonment of the prime suspect – a likeable, unassuming college student who finds himself and his family thrown into the pit of NYC's criminal, legal, penal and judicial system. Meanwhile, his lawyer, an inveterate ""precinct trawler"" who lucks into the biggest case of his life, becomes entangled in a web of complicated legal maneuverings by detectives and rival attorneys that undermine his ability to try the case. The Night Of takes an unvarnished look at both the multifaceted NYC criminal-justice system and the feral purgatory of Rikers Island, where the accused await trial for felony crimes.
Season 2 finds Jimmy leaving shortcuts behind for his budding romance with Kim. With his stern brother Chuck keeping watch and fixer Mike drawn into a menacing cartel web, how long can "Slippin' Jimmy" stay on the straight and narrow?
Based on Alexander Rose's book Washington's Spies, AMC's TURN tells the untold story of America's first spy ring. A historical thriller set during the Revolutionary War, TURN centers on Abe Woodhull, a farmer living in British-occupied Long Island who bands together with his childhood friends to form The Culper Ring -- an unlikely team of secret agents who not only went on to help George Washington turn the tide of the war but also gave birth to modern spycraft.
Rebecca Bunch has always been wound a little tightly. It's something that served her well as she has raced up the ladder at her corporate law firm in New York. It may also be why she has no life. So when Rebecca bumps into Josh Chan – her handsome, long-ago summer–camp–sweetheart – she knows that it's a sign. A sign for her to quit her job, drop everything and move across the country to West Covina, California where, in a huge, definitely unrelated coincidence, Josh just happens to live. Settling into her new Southern California surroundings, Rebecca's contagious, sometimes-delusional enthusiasm begins to stir the citizens of West Covina, shaking them up and giving them a new soundtrack to their lives.
Told from the perspective of the lawyers, it explores the chaotic dealings behind closed doors and how prosecution overconfidence, defense shrewdness and shocking courtroom twists led to one of the most earth-shattering verdicts of all time.
Place Hold for the Complete Series
A chronicled look at the criminal exploits of Colombian drug lord Pablo Escobar.
The classic American saga about a family's multi-generational struggle to resist slavery is re-imagined for a new generation.
Frank is still mourning the loss of Bianca, while his newfound appreciation for life is freaking the Gallaghers out. This season sees more than just the arctic Lake Michigan winds whipping through the Southside. Carl's out of juvie. While Fiona struggles with a still-unstable Ian to take his meds, she's also got another situation looming as Debbie faces a brand new baby-mama-drama. Change is hard and the Gallaghers are as surprised as anyone at how life is turning out for them. But the question remains – as they come into their own and find out who they really are – is it really possible that the Gallaghers could grow apart for good?
For as long as they can recall, Grace and Frankie have been at odds with each other. But their relationship suddenly changes when they learn that their husbands, Bob and Sol, have fallen in love and asked for divorces - so they can marry one another.
From director Andrew Jarecki and producer Marc Smerling, this groundbreaking documentary series sheds new light on real-estate pariah Robert Durst, while unraveling one of the most notorious unsolved crimes in New York history.
Masters of Sex stars Golden Globe® and BAFTA Award nominee Michael Sheen and acclaimed actress Lizzy Caplan, who portray the real-life pioneers of the science of human sexuality, Dr. William Masters and Virginia Johnson. The series chronicles the unusual lives, romance and pop culture trajectory of Masters and Johnson and the effect their research had on the family and colleagues around them.