Skip to main content
New York State National Parks
Destination Vacation: New York State National Parks
Welcome to the Empire State! Let the Tappan Library assist you in exploring all corners of New York.
National Parks in New York State
The State of New York is home to 23 National Parks that include one World Heritage site (The Statue of Liberty) and four National Heritage Areas. The run the gamut from historical buildings to acres of outdoor beauty.
Niagra Falls National Heritage Site
The Niagara Falls National Heritage Area
This area encompasses the towns of Niagara Falls, Lewiston and Youngstown. Hop on the Discover Niagara shuttle in order to explore historic sites, state parks and museums.
Hyde Park: Home of Franklin D. Roosevelt
Hyde Park: Home of Franklin D. Roosevelt
FDR felt very connected to his home in the Hudson Valley. It was here that he created the first US Presidential Library.
Ellis Island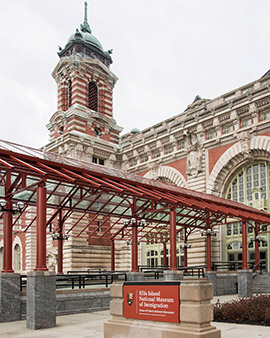 During its 32 year history as America's largest and busiest immigration center, Ellis Island processed over 12 million immigrants. A visit to this center will take you through that process through the eyes of those who worked there and those who came to the Island of Hope in order to enter the United States.